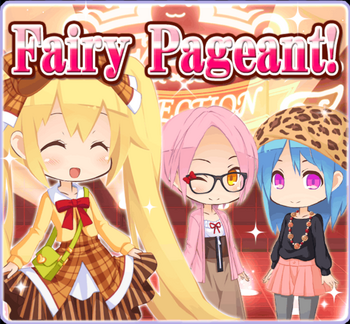 10/22 23:00 (PDT) - 11/04 21:59 (PST)
Entry Prize
Edit
| Item | Name |
| --- | --- |
| | Taiyaki Cake pink |
CP Ranking Rewards
Edit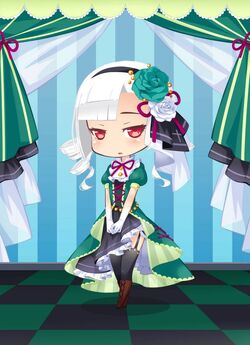 Ranking
Item
Item
Item
1-50

51-300
301-1000
1001-2500
Best Dressed Ranking Rewards
Edit
Ranking
Casual
Fantasy
Unique
1

2-3

4-50

51-300
301-1000

1001-2500
Daily Vote Bonus Prizes
Edit
| Cast 60 votes! | Prizes! |
| --- | --- |
| Day 1 | |
| Day 2 | |
| Day 3 | |
| Day 4 | |
| Day 5 | |
| Day 6 | |
| Day 7 | |
CP Rewards
Edit
| Collect CP! | Prizes! |
| --- | --- |
| 120 CP | |
| 240 CP | |
| 360 CP | |
| 450 CP | |
| 510 CP | |
| 570 CP | |
| 660 CP | |
Fairy Agency Team's Entries
Edit
NPC
Encounter
Dialogue
Prize
Robin

Met
Ahh... Everyone looks so pretty!
Nothing
Voted For
You voted for me? Thank you so much!

Julia

Met
I'm terribly sorry, but that Best Dressed throne already has my name on it.
Nothing
Voted For
Huhu... I suppose I should be congratulating you, for understanding this level of high fashion.

Karume

Met
My incredible beauty would put a goddess to shame!
Nothing
Voted For
Thanks! Let's all aim for No. 1♪

Mika

Met
Best Dressed prize? Clothes are good I guess, but I'd rather have some chicken, meow.
Nothing
Voted For
Good choice, meow. Take this delicious gift from me, meow.

Cocoa Chief

Met
Nothing
Voted For
Thank you. Let's all enjoy this season's Fairy Pageant♪

Silia

Met
J-just in it for the prize?! How did you--- *cough* N-nothing!!
Nothing
Voted For
I plan on using the Best Dressed prize money to set up a brand new laboratory, with the remaining going towards... *mumble mumble*

Anko

Met
... Being fashionable is... not easy...
Nothing
Voted For
Thanks... Come by the Fairy Raffle... any time...