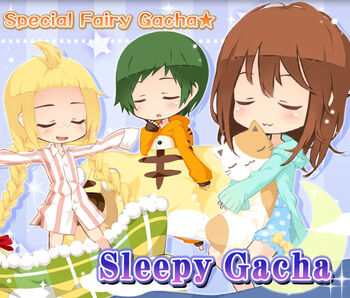 Information
Edit
This is a limited gacha running from October 15, 2015 to October 22, 2015 (PDT).

1 play is 700DP and the 5x gacha (5 plays) is 3000DP.


About the Sleepy Gacha
Edit
You will receive a set of a Comforter/Bed Sheet/Detail, a total of 3 items. All items will have the same pattern, but the colors will be chosen at random.
You will not receive duplicates of items that you already own.
When the number of [Comforters/Bed Sheets/Details] that you don't have goes below 5, you will not be able to choose the 5x gacha.
After obtaining all the items you will not be able to play this Gacha.
Drop rates for all items are the same.
Items obtained in the Gacha will be put directly to your Outfit slots.
About the items obtained in the Gacha
Edit
You can set the items from this Gacha in the [Change Sleep Picture Settings] page in the [Settings].
Items obtained in the Sleepy Gacha can be used by all your Fairy Dolls. Moreover, once you receive an item from this Gacha, it can be used by multiple Fairy Dolls at the same time.
Sleeping pictures can't be photographed and submitted in the Photo Studio.
Avatars obtained in the Sleepy Gacha can't be equipped normally, recycled, turned into Magical Thread, used for Synthesis and Background Combining.
Animal Pajamas w/ Sheets
Variation
Cow
Tiger
Dinosaur
Preview

Comforter

BedSheet

Detail


Animal Pajamas Cow w/ Sheets
Animal Bed Frame Cow
Sleepy Friends Type 1

Animal Pajamas Tiger w/ Sheets
Animal Bed Frame Tiger
Sleepy Friends Type 2

Animal Pajamas Dinosaur w/ Sheets
Animal Bed Frame Dinosaur
Sleepy Friends Type 3
Flowery Robes w/ Sheets
Variation
White
Yellow
Blue
Preview

Comforter

BedSheet

Detail


Flowery Robes White w/ Sheets
Tatami Futon Pink
Warm Nights Pink

Flowery Robes Yellow w/ Sheets
Tatami Futon Green
Warm Nights Brown

Flowery Robes Blue w/ Sheets
Tatami Futon Blue
Warm Nights Cream
Dynamic Stripes w/ Sheets
Variation
Blue
Pink
Purple
Preview

Comforter

BedSheet

Detail


Dynamic Stripes Blue w/ Sheets
Messy Style Red
Always Messy Type 1

Dynamic Stripes Pink w/ Sheets
Messy Style Green
Always Messy Type 2

Dynamic Stripes Purple w/ Sheets
Messy Style Blue
Always Messy Type 3
Bedtime Friend w/ Sheets
Variation
Mint
Cream
Pink
Preview

Comforter

BedSheet

Detail


Bedtime Friend Mint w/ Sheets
Dream of Stars Navy
Astronomical Fan Navy

Bedtime Friend Cream w/ Sheets
Dream of Stars Pink
Astronomical Fan Red

Bedtime Friend Pink w/ Sheets
Dream of Stars Cream
Astronomical Fan Yellow
Marine Borders w/ Sheets
Variation
Blue
Pink
Yellow
Preview

Comforter

BedSheet

Detail


Marine Borders Blue w/ Sheets
Marine Bed Frame Blue
Sailor Bear Orange

Marine Borders Pink w/ Sheets
Marine Bed Frame Pink
Sailor Bear Green

Marine Borders Yellow w/ Sheets
Marine Bed Frame Yellow
Sailor Bear Sky