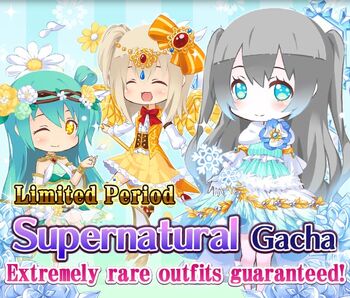 Information
Edit
This is a limited gacha running from April 21st, 2016 to April 29th, 2016 (PDT).
4/21 02:00 - 4/21 22:59 (PDT) // Day 1: Acc Series (400 DP)
4/21 23:00 - 4/22 22:59 (PDT) // Day 2: Acc Series (400 DP)
4/22 23:00 - 4/23 22:59 (PDT) // Day 3: Clothes Series (600 DP)
4/23 23:00 - 4/24 22:59 (PDT) // Day 4: Acc Series (400 DP)
4/24 23:00 - 4/25 22:59 (PDT) // Day 5: Acc Series (400 DP)
4/25 23:00 - 4/26 22:59 (PDT) // Day 6: Clothes Series (600 DP)
4/26 23:00 - 4/29 22:59 (PDT) // Compilation (500 DP) - Contains all Limited Daily Gacha Avatars!
Precautions
Edit
Contents change every day at 23:00.
The drop rate for all items is the same.
Because of the nature of the Gacha, it might be impossible to obtain all items.
There might be cases of obtaining duplicate items from the Gacha.
Items obtained from the Gacha will be sent directly to your free outfit slots.
You will receive 1 Raffle Ticket for 1 Gacha Play.
The Play Bonus will be sent to your Present Box upon meeting the requirements.
Plays are counted toward the Play Bonus despite of the day when you do them.
Regarding the outfit exchange
Edit
You can exchange 3 duplicate outfits for 1 other outfit of your choice from the same date (excluding the Compilation Period).
An outfit can't be exchanged for the same outfit.
Outfits which are equipped by a Fairy Doll or are favorited can't be exchanged.
Only outfits in outfit slots can be exchanged (can't exchange outfits from the Present Box).
Outfits obtained through the exchange are sent directly to outfit slots.
Plays Bonus (4★ Outfits)
Edit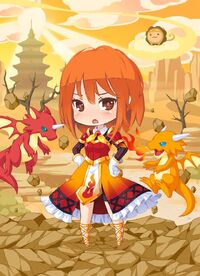 The following limited outfits are awarded after the 2nd, 4th, and 6th plays.
| Image | Item | Type |
| --- | --- | --- |
| | Baby Dragon's Quarrel | Other Acc |
| | Earth Shatter | Back Acc |
| | Fire Spirit Salamander | Clothes |
5★ Outfits
Edit
Image
Item
Type
Day 1
Wind Spirit Hair Ornament
Head Acc
Water Spirit Horns
Head Acc
Forbidden Flower Garden
Other Acc
Day 2
Creepy Ghost Woods
Back Acc
Door To The Underworld
Back Acc
Radiant Light
Back Acc
Day 3
Wind Spirit Sylph
Clothes
Water Spirit Undine
Clothes
Dark Spirit Shade
Clothes
Day 4
Glamorous Ribbon
Head Acc
Ivy Flower Crown
Head Acc
Beautiful Ice Flowers
Other Acc
Day 5
Radiant Gold Wings
Back Acc
Floating Ice Mirrors
Back Acc
Scattered Flowers
Back Acc
Day 6
Light Spirit Will-o'-the-Wisp
Clothes
Ice Spirit Frau
Clothes
Tree Spirit Dryad
Clothes
Ad blocker interference detected!
Wikia is a free-to-use site that makes money from advertising. We have a modified experience for viewers using ad blockers

Wikia is not accessible if you've made further modifications. Remove the custom ad blocker rule(s) and the page will load as expected.