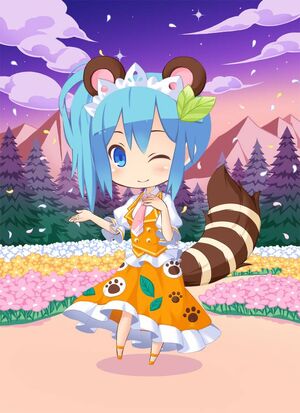 Bonus Set
Edit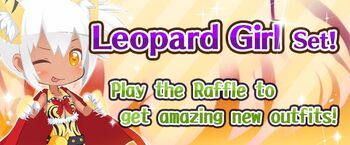 | Image | Item | Type | # Plays |
| --- | --- | --- | --- |
| | Black Tiger Striped Ears | Head Acc | 30 |
| | Fighting Spirit Aura | Back Acc | 45 |
| | Leopard Girl | Clothes | 60 |
1st Prize (5★ Outfits)
Edit
| Image | Item | Type |
| --- | --- | --- |
| | Tanuki Hairband | Head Acc |
| | Tanutanu Waitress | Clothes |
| | Tanuki Tail | Back Acc |
2nd Prize (4★ Outfits)
Edit
| | | | | |
| --- | --- | --- | --- | --- |
| Cat Ear Piercing | | | | |
| color | brown | black | white | gray |
| Agility Cat | | | | |
| color | green | red | blue | purple |
| Mountain Peak Flower Garden | | | | |
| color | Morning | purple | Night | Evening |
3rd Prize (3★ Outfits)
Edit
| | | | | | |
| --- | --- | --- | --- | --- | --- |
| Fluffy Lamb Cap | | | | | |
| color | yellow | black | white | brown | (synthesis) |
| Cotton Mary | | | | | |
| color | red | blue | green | yellow | (synthesis) |
| Fake Wolf Shadow | | | | | |
| color | red | black | green | yellow | (synthesis) |
4th Prize (2★ Outfits)
Edit
| | | | | | |
| --- | --- | --- | --- | --- | --- |
| Asymmetrical Bent Dog Ears | | | | | |
| color | brown | red | yellow | black | white |
| Carrot Rabbit Ears | | | | | |
| color | red | blue | black | brown | yellow |
| Naughty Boy | | | | | |
| color | aqua | blue | red | green | black |
| Rabbit Maid | | | | | |
| color | pink | blue | black | brown | green |
5th Prize (items)
Edit
The following items can also be received from a Raffle play:
Ad blocker interference detected!
Wikia is a free-to-use site that makes money from advertising. We have a modified experience for viewers using ad blockers

Wikia is not accessible if you've made further modifications. Remove the custom ad blocker rule(s) and the page will load as expected.